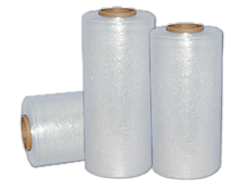 Wholesale Packaging Supplies in Pico Rivera, CA
Jet Sales Packaging provides stretch film and other wholesale packaging supplies to enterprise businesses, warehouses and fulfillment centers in Los Angeles and across Southern California. We're conveniently located in Pico Rivera, CA, giving us the ability to supply you with premium wholesale boxes and other products at competitive prices, with fast, reliable delivery throughout Los Angeles County, Orange County, Riverside County, and San Bernardino County, CA.
Browse our selection of corrugated boxes, foam, film, bubble wrap, pallet wrap, janitorial supplies and so much more.
Wholesale Stretch Film
No matter what you're shipping or where it's headed to, you'll find the perfect fit when you browse our selection of stretch film. We supply only reinforced corrugated boxes with strong seams and durable, corrugated construction. With different dimensions, weight ratings, flap styles and more, you're guaranteed a box that's suited for any good or item.
Whether you need a few dozen or a few thousand, we're equipped with an inventory to meet the needs of enterprise-level customers throughout the SoCal region. And, of course, we have all the wholesale packaging materials, tape and other items you need to ensure your box is secured and ready for freight transport.
Our Packaging Supplies
Stretch film.
Tightly bind items with plastic stretch film, designed to stabilize.
Machine film.
Effective film for wrapping machines, for pallets and large freight.
Carton sealing tape.
Browse variations of carton sealing tape with proven performance.
Bubble wrap/Foam.
Bubble wrap and foam protects fragile shipments, available in a variety of sizes.
Call for Wholesale Boxes, Stretch Film & More
Since 1989, the dedicated team at Jet Sales Packaging has made us a valued distributor of wholesale boxes, pallet wrap, packaging and other packing and shipping products to Southern California businesses. For more info on our warehouse goods and wholesale packaging supplies, please contact us at 562-942-1020.